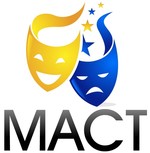 Minnesota Association of Community Theatres
Mini MACT*Facts
www.MN-ACT.net
---
---
News
While there is still a lot of content from our old website that has yet to be moved over to the new website, we think the new website has several new features that make this site a great improvement over our previous website. The biggest change is how we are handling MACT members' events.

There is now a list of the current week's events on the right side of the home page. You can hover over an event to get additional info on that event. You can also click on an event to see the full information on that event.

If you click on the "Events" menu option at the top of the home page, it will take you to our new calendar view of upcoming events. Like the home page list of events, if you hover over an event, it will popup a box with more information on the event. If you click on an event, it will display a page with the full event information. You can change from the month view to a week or day view or a slider of events. You can search the events for a show name or by other criteria.

I will get into some of the other things the events calendar can do, along with additional new features of the website, in future newsletters.

We will not be doing additional updates to the old (www.MACT.net) website and that domain name will be transfered to the new website in a few months.

In the meantime, explore and enjoy the new website.  www.MN-ACT.net  Your comments and suggestions are always welcome.

MACT is still looking for a host theatre and facility for

MACT*Fest 2025

.  Show off your theater and community by hosting MACT*Fest!  We need a facility for Wednesday through Saturday in March of 2025.  The area should have locations for social events, including the awards brunch on Sunday morning, enough hotel rooms nearby to handle the events.  If interested in learning more, contact Darren Beecher, our editor or any MACT Board member.

We hope you have Saturday, August 24 on your calendars for Fast*Fest '24!  This festival of 20-minute plays will be held at the Encore Performing Arts Center in Cloquet.  Our hosts will again be County Seat Theater Company.  They always do a great job and are really fun to work with.  Get your show picked out and join us in just over a year for Fast*Fest '24!

Please keep

LPint Consulting

in mind when you are looking for website design and maintenance services.  They do MACT's (old and new) website and websites for several theatres.  MACT members get a 20% discount on their design and maintenance services.





We would like to feature stories about MACT member theaters in this newsletter.  If you have a story about your theatre – it's history, a special project or milestone, anything of general interest – please send it to NewsletterMACT@gmail.com.

Please pass this newsletter along to anyone that you think might be interested.   If you did not receive this newsletter directly, you can subscribe to this free weekly newsletter on the newsletters page of our website.
Please keep

Tickets to the City

in mind when you are looking for an on-line ticketing service.  They have been MACT's on-line ticketing service for many years.  The system works great and is easy to use.  Support is superior!  And every ticket you sell through them helps support MACT.
---
Events
Events for July 31 through August 13
Due to the rapid changes with the COVID pandemic, you should check with the theatre before attending any event.
For a listing of MACT Member Events for the next 3 months, visit our website: www.MACT.net
Due to the change of the events calendar software we are using, the fancy listing with graphics for each event is no longer available.  We are working on a solution to this.  In the mean time, we are back to the old event listings that we had earlier.
---
Wednesday, August 2, 2023
          Beauty & the Beast Jr. (Student Theatre Project) – Curtain: 7:00
          Andria Theatre at Andria Theatre in Alexandria

Thursday, August 3, 2023
          Winter's Tale – Curtain: 7:00
          Northfield Arts Guild at Central Park – Northfield in Northfield

          Who's in Bed With the Butler? – Curtain: 7:00
          Barn Theatre at The Barn Theatre in Willmar

          Shout! The Mod Musical – Curtain: 7:00
          Grand Marais Playhouse at Arrowhead Center for the Arts in Grand Marais

          Newsies – Curtain: 7:00
          Great Northern Theatre Company at Rocori High School in Cold Spring

          Beauty & the Beast Jr. (Student Theatre Project) – Curtain: 7:00
          Andria Theatre at Andria Theatre in Alexandria

          Rumors – Curtain: 7:00
          Columbia Heights Fine Arts Foundation at Columbia Heights HS Performing Arts Center in Columbia Heights

Friday, August 4, 2023
          Day Aliens Attacked Fairfield (Youth Theatre) – Curtain: 2:00
          County Seat Theater Company at Encore Performing Arts Center in Cloquet

          Day Aliens Attacked Fairfield (Youth Theatre) – Curtain: 6:00
          County Seat Theater Company at Encore Performing Arts Center in Cloquet

          Winter's Tale – Curtain: 7:00
          Northfield Arts Guild at Central Park – Northfield in Northfield

          Curious Incident of the Dog in the Night-Time – Curtain: 7:00
          Summerset Theatre at Frank W. Bridges Theatre in Austin

          Who's in Bed With the Butler? – Curtain: 7:00
          Barn Theatre at The Barn Theatre in Willmar

          Four Old Broads – Curtain: 7:00
          Grand Marais Playhouse at Arrowhead Center for the Arts in Grand Marais

          Newsies – Curtain: 7:00
          Great Northern Theatre Company at Rocori High School in Cold Spring

          Cinderella (Prince Street Players) – Dinner: 93923136 Crescen – Curtain: 7:00
          Davori Productions/Mankato Playhouse at Mankato Playhouse in Mankato

          Beauty & the Beast Jr. (Student Theatre Project) – Curtain: 7:00
          Andria Theatre at Andria Theatre in Alexandria

          Rumors – Curtain: 7:00
          Columbia Heights Fine Arts Foundation at Columbia Heights HS Performing Arts Center in Columbia Heights

          Little Shop of Horrors – Curtain: 7:30
          Northern Light Opera Company at Armory Arts & Events Center in Park Rapids

Saturday, August 5, 2023
          SALE! (Costumes & Props) – Dinner: 2:00 – Curtain: 10:00 am
          Bemidji Community Theater at BCT Performing Arts Center in Bemidji

          Rumors – Curtain: 2:00
          Columbia Heights Fine Arts Foundation at Columbia Heights HS Performing Arts Center in Columbia Heights

          Starved (Fringe Festival Show) – Curtain: 4:00
          Mindless Mirth Productions at Augsburg University in Minneapolis

          Winter's Tale – Curtain: 7:00
          Northfield Arts Guild at Central Park – Northfield in Northfield

          Curious Incident of the Dog in the Night-Time – Curtain: 7:00
          Summerset Theatre at Frank W. Bridges Theatre in Austin

          Who's in Bed With the Butler? – Curtain: 7:00
          Barn Theatre at The Barn Theatre in Willmar

          Shout! The Mod Musical – Curtain: 7:00
          Grand Marais Playhouse at Arrowhead Center for the Arts in Grand Marais

          Newsies – Curtain: 7:00
          Great Northern Theatre Company at Rocori High School in Cold Spring

          Cinderella (Prince Street Players) – Dinner: 93923136 Crescen – Curtain: 7:00
          Davori Productions/Mankato Playhouse at Mankato Playhouse in Mankato

          Beauty & the Beast Jr. (Student Theatre Project) – Curtain: 7:00
          Andria Theatre at Andria Theatre in Alexandria

          Little Shop of Horrors – Curtain: 7:30
          Northern Light Opera Company at Armory Arts & Events Center in Park Rapids

Sunday, August 6, 2023
          Curious Incident of the Dog in the Night-Time – Curtain: 2:00
          Summerset Theatre at Frank W. Bridges Theatre in Austin

          Who's in Bed With the Butler? – Curtain: 2:00
          Barn Theatre at The Barn Theatre in Willmar

          Four Old Broads – Curtain: 2:00
          Grand Marais Playhouse at Arrowhead Center for the Arts in Grand Marais

          Newsies – Curtain: 2:00
          Great Northern Theatre Company at Rocori High School in Cold Spring

          Cinderella (Prince Street Players) – Dinner: 93923136 Crescen – Curtain: 2:00
          Davori Productions/Mankato Playhouse at Mankato Playhouse in Mankato

          Auditions for Cats ((Broadway Teens) Ages 12 – 18) – at 5:00
          Davori Productions/Mankato Playhouse at Mankato Playhouse in Mankato

          Starved (Fringe Festival Show) – Curtain: 10:00
          Mindless Mirth Productions at Augsburg University in Minneapolis

Monday, August 7, 2023
          Auditions for Cats ((Broadway Teens) Ages 12 – 18) – at 5:00
          Davori Productions/Mankato Playhouse at Mankato Playhouse in Mankato

Wednesday, August 9, 2023
          Beauty & the Beast Jr. (Student Theatre Project) – Curtain: 7:00
          Andria Theatre at Andria Theatre in Alexandria

Thursday, August 10, 2023
          Who's in Bed With the Butler? – Curtain: 7:00
          Barn Theatre at The Barn Theatre in Willmar

          Four Old Broads – Curtain: 7:00
          Grand Marais Playhouse at Arrowhead Center for the Arts in Grand Marais

          Beauty & the Beast Jr. (Student Theatre Project) – Curtain: 7:00
          Andria Theatre at Andria Theatre in Alexandria

          Rumors – Curtain: 7:00
          Columbia Heights Fine Arts Foundation at Columbia Heights HS Performing Arts Center in Columbia Heights

          Starved (Fringe Festival Show) – Curtain: 7:00
          Mindless Mirth Productions at Augsburg University in Minneapolis

Friday, August 11, 2023
          Starved (Fringe Festival Show) – Curtain: 5:30
          Mindless Mirth Productions at Augsburg University in Minneapolis

          The Addams Family – Curtain: 6:00
          Duluth Playhouse at NorShor Theatre in Duluth

          Who's in Bed With the Butler? – Curtain: 7:00
          Barn Theatre at The Barn Theatre in Willmar

          Shout! The Mod Musical – Curtain: 7:00
          Grand Marais Playhouse at Arrowhead Center for the Arts in Grand Marais

          Beauty & the Beast Jr. (Student Theatre Project) – Curtain: 7:00
          Andria Theatre at Andria Theatre in Alexandria

          Rumors – Curtain: 7:00
          Columbia Heights Fine Arts Foundation at Columbia Heights HS Performing Arts Center in Columbia Heights

Saturday, August 12, 2023
          The Addams Family – Dinner: 93923136rShor Th – Curtain: 1:00
          Duluth Playhouse at NorShor Theatre in Duluth

          Rumors – Curtain: 2:00
          Columbia Heights Fine Arts Foundation at Columbia Heights HS Performing Arts Center in Columbia Heights

          The Addams Family – Curtain: 5:00
          Duluth Playhouse at NorShor Theatre in Duluth

          Who's in Bed With the Butler? – Curtain: 7:00
          Barn Theatre at The Barn Theatre in Willmar

          Four Old Broads – Curtain: 7:00
          Grand Marais Playhouse at Arrowhead Center for the Arts in Grand Marais

          Beauty & the Beast Jr. (Student Theatre Project) – Curtain: 7:00
          Andria Theatre at Andria Theatre in Alexandria

Sunday, August 13, 2023
          The Addams Family – Curtain: 1:00
          Duluth Playhouse at NorShor Theatre in Duluth

          Who's in Bed With the Butler? – Curtain: 2:00
          Barn Theatre at The Barn Theatre in Willmar

          Shout! The Mod Musical – Curtain: 2:00
          Grand Marais Playhouse at Arrowhead Center for the Arts in Grand Marais

          Starved (Fringe Festival Show) – Curtain: 4:00
          Mindless Mirth Productions at Augsburg University in Minneapolis

          The Addams Family – Curtain: 5:00
          Duluth Playhouse at NorShor Theatre in Duluth