Hello, Larry,
Welcome to the October 29, 2023 issue of Mini MACT*Facts.  We hope you find it informative and useful.  Please forward this newsletter on to anyone you think might be interested.
Please support our advertisers
---


LPint Consulting designs and maintains several websites, including the MACT website. Please keep them in mind when you are looking for website design and/or maintenance for your theatre or other small business. They have been responsible for MACT's website for many years. Support is great! Their people have worked in every aspect of community theatre, so they know what you do and need. They also offer a 20% discount on design and maintenance services to MACT member theatres. That could save your theatre enough to cover your annual MACT dues.
---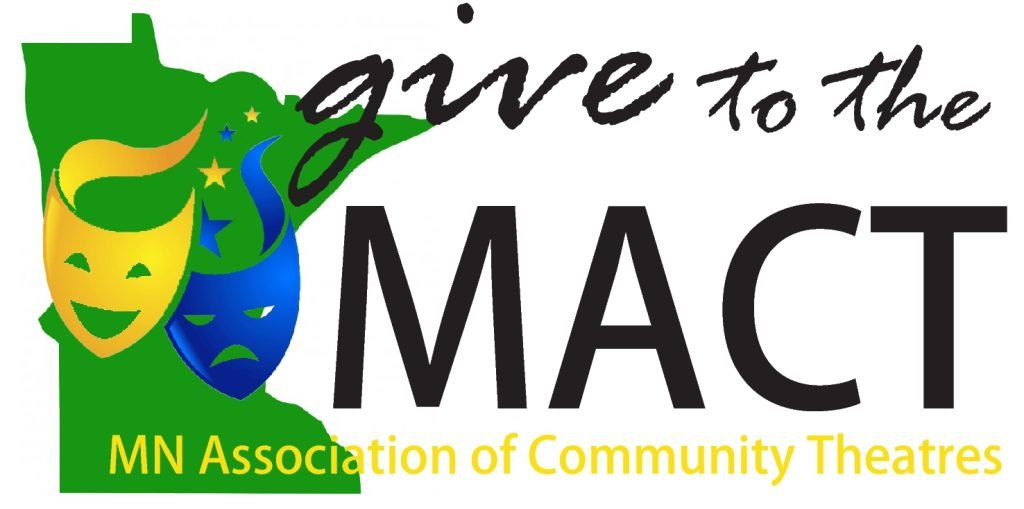 MACT is conducting its annual fundraising drive.  We are calling our drive "Give to the MACT".
Again this year, MACT's current and former Board Members have contributed to a fund that will match every donation (up to the first $675) to MACT during the fundraising period which ends November 18th.
Remember, donations to MACT made between now and November 18th will be matched, so your gift will have double the impact for MACT.
Click here to make a donation to our "Give to the MACT" fundraising campaign.
---



Please keep Tickets to the City in mind when you are looking for an on-line ticketing service. They have been MACT's on-line ticketing service for many years. The system works great and is easy to use. Support is superior! And every ticket you sell through them provides your theatre with MORE than the value of the ticket sold and helps support MACT.
Auditions for the next two weeks
Due to the rapid changes caused by the COVID pandemic, you should check with the theatre before attending any audition.
For a complete listing of MACT Member Auditions,
visit our events calendar: www.MN-ACT.net
Monday, October 30
   @ 6:00 PM  

 Auditions for All is Calm: The Christmas Truce of 1914
   presented by: Andria Theatre 
   at: Andria Theatre
       618 Broadway St Alexandria, MN 56308-1810


Friday, November 3
   @ 6:00 PM  

 Auditions for Don't Hug Me
   presented by: Madhatters Community Theatre 
   at: Wadena Memorial Auditorium
       249 Dayton Ave SW, Wadena, MN 56482, USA


Saturday, November 4
   @ 2:00 PM  

 Auditions for Don't Hug Me
   presented by: Madhatters Community Theatre 
   at: Wadena Memorial Auditorium
       249 Dayton Ave SW, Wadena, MN 56482, USA


Monday, November 6
   @ 7:00 PM  

 Auditions for The Seagull
   presented by: Theatre in the Round Players 
   at: Theatre in the Round
       245 Cedar Ave, Minneapolis, MN 55454, USA


Tuesday, November 7
   @ 7:00 PM  

 Auditions for The Seagull
   presented by: Theatre in the Round Players 
   at: Theatre in the Round
       245 Cedar Ave, Minneapolis, MN 55454, USA


   @ 7:00 PM  

 Registration Deadline for Chicago - Teen Edition
   presented by: Northern Starz Theatre Company 
   at: Northern Starz Center for the Performing Arts
       5300 Alpine Drive, Ramsey, MN, USA


Saturday, November 11
   @ 1:00 PM  

 Auditions for Next to Normal
   presented by: Duluth Playhouse 
   at: Norshor Theatre
       211 E Superior St, Duluth, MN 55802, USA


Sunday, November 12
   @ 6:00 PM  

 Registration for Auditions for Mary Poppins Jr. (Penguin Players)
   presented by: Northern Starz Theatre Company 
   at: Northern Starz Center for the Performing Arts
       5300 Alpine Drive, Ramsey, MN, USA


Monday, November 13
   @ 4:00 PM  

 Auditions for I Am My Own Wife
   presented by: Lakeshore Players 
   at: Hanifl Performing Arts Center
       4941 Long Ave, White Bear Lake, MN 55110, USA


   @ 5:00 PM  

 Auditions for The Curious Incident of the Dog in the Night-Time
   presented by: Lakeshore Players 
   at: Hanifl Performing Arts Center
       4941 Long Ave, White Bear Lake, MN 55110, USA


Events for the next two weeks
Due to the rapid changes caused by the COVID pandemic, you should check with the theatre before attending any event.
For a complete listing of MACT Member Events,
visit our events calendar: www.MN-ACT.net
Tuesday, October 31
   @ 11:30 PM  

 What She Said New Play Festival 2024 Submission Deadline
   presented by: Duluth Playhouse 
   at: Norshor Theatre
       211 E Superior St, Duluth, MN 55802, USA


Thursday, November 2
   @ 7:00 PM  

 Watermelon Hill
   presented by: Northern Starz Theatre Company 
   at: Northern Starz Center for the Performing Arts
       5300 Alpine Drive, Ramsey, MN, USA


Friday, November 3
   @ 7:00 PM  

 Watermelon Hill
   presented by: Northern Starz Theatre Company 
   at: Northern Starz Center for the Performing Arts
       5300 Alpine Drive, Ramsey, MN, USA


   @ 7:00 PM  

 The Addams Family
   presented by: Davori Productions / Mankato Playhouse 
   at: Mankato Playhouse
       12 Civic Center Plaza #1700, Mankato, MN 56001, USA


   @ 7:00 PM  

 The Stache
   presented by: Marshall Area Stage Company 
   at: Marshall-Lyon County Library
       201 C St, Marshall, MN 56258, USA


   @ 7:30 PM  

 She Kills Monsters: Young Adventurer's Edition
   presented by: Theatre in the Round Players 
   at: Theatre in the Round
       245 Cedar Ave, Minneapolis, MN 55454, USA


   @ 7:30 PM  

 Sweet Charity
   presented by: Northfield Arts Guild 
   at: Northfield Arts Guild Theatre
       411 3rd St W, Northfield, MN 55057, USA


   @ 7:30 PM  

 Hot 'N' Cole
   presented by: Cross Community Players 
   at: University Lutheran Church of Hope
       601 13th Avenue Southeast, Minneapolis, MN, USA


Saturday, November 4
   @ 2:00 PM  

 The Stache
   presented by: Marshall Area Stage Company 
   at: Marshall-Lyon County Library
       201 C St, Marshall, MN 56258, USA


   @ 7:00 PM  

 Watermelon Hill
   presented by: Northern Starz Theatre Company 
   at: Northern Starz Center for the Performing Arts
       5300 Alpine Drive, Ramsey, MN, USA


   @ 7:00 PM  

 The Addams Family
   presented by: Davori Productions / Mankato Playhouse 
   at: Mankato Playhouse
       12 Civic Center Plaza #1700, Mankato, MN 56001, USA


   @ 7:30 PM  

 She Kills Monsters: Young Adventurer's Edition
   presented by: Theatre in the Round Players 
   at: Theatre in the Round
       245 Cedar Ave, Minneapolis, MN 55454, USA


   @ 7:30 PM  

 Sweet Charity
   presented by: Northfield Arts Guild 
   at: Northfield Arts Guild Theatre
       411 3rd St W, Northfield, MN 55057, USA


Sunday, November 5
   @ 2:00 PM  

 Watermelon Hill
   presented by: Northern Starz Theatre Company 
   at: Northern Starz Center for the Performing Arts
       5300 Alpine Drive, Ramsey, MN, USA


   @ 2:00 PM  

 She Kills Monsters: Young Adventurer's Edition
   presented by: Theatre in the Round Players 
   at: Theatre in the Round
       245 Cedar Ave, Minneapolis, MN 55454, USA


   @ 2:00 PM  

 The Addams Family
   presented by: Davori Productions / Mankato Playhouse 
   at: Mankato Playhouse
       12 Civic Center Plaza #1700, Mankato, MN 56001, USA


   @ 2:00 PM  

 Sweet Charity
   presented by: Northfield Arts Guild 
   at: Northfield Arts Guild Theatre
       411 3rd St W, Northfield, MN 55057, USA


Monday, November 6
   @ 7:00 PM  

 Enough! Plays to End Gun Violence
   presented by: Applause Community Theatre 
   at: Mixed Blood Theatre
       1501 S 4th St, Minneapolis, MN 55454, USA


Thursday, November 9
   @ 7:30 PM  

 White Christmas
   presented by: Little Theatre of Owatonna 
   at: Little Theatre of Owatonna
       560a Dunnell Drive, Owatonna, MN 55060, USA


Friday, November 10
   @ 7:00 PM  

 Junie B in Jingle Bells, Batman Smells!
   presented by: Merely Players 
   at: Lincoln Community Center
       110 Fulton St, Mankato, MN 56001, USA


   @ 7:00 PM  

 The Addams Family
   presented by: Davori Productions / Mankato Playhouse 
   at: Mankato Playhouse
       12 Civic Center Plaza #1700, Mankato, MN 56001, USA


   @ 7:00 PM  

 Brigadoon
   presented by: Bemidji Community Theater 
   at: BCT Performing Arts Center
       316 Beltrami Ave NW Bemidji, MN 56601


   @ 7:30 PM  

 Sweet Charity
   presented by: Northfield Arts Guild 
   at: Northfield Arts Guild Theatre
       411 3rd St W, Northfield, MN 55057, USA


   @ 7:30 PM  

 White Christmas
   presented by: Little Theatre of Owatonna 
   at: Little Theatre of Owatonna
       560a Dunnell Drive, Owatonna, MN 55060, USA


Saturday, November 11
   @ 2:30 PM  

 Junie B in Jingle Bells, Batman Smells!
   presented by: Merely Players 
   at: Lincoln Community Center
       110 Fulton St, Mankato, MN 56001, USA


   @ 7:00 PM  

 Junie B in Jingle Bells, Batman Smells!
   presented by: Merely Players 
   at: Lincoln Community Center
       110 Fulton St, Mankato, MN 56001, USA


   @ 7:00 PM  

 The Addams Family
   presented by: Davori Productions / Mankato Playhouse 
   at: Mankato Playhouse
       12 Civic Center Plaza #1700, Mankato, MN 56001, USA


   @ 7:00 PM  

 Brigadoon
   presented by: Bemidji Community Theater 
   at: BCT Performing Arts Center
       316 Beltrami Ave NW Bemidji, MN 56601


   @ 7:30 PM  

 Sweet Charity
   presented by: Northfield Arts Guild 
   at: Northfield Arts Guild Theatre
       411 3rd St W, Northfield, MN 55057, USA


   @ 7:30 PM  

 White Christmas
   presented by: Little Theatre of Owatonna 
   at: Little Theatre of Owatonna
       560a Dunnell Drive, Owatonna, MN 55060, USA


Sunday, November 12
   @ 2:00 PM  

 The Addams Family
   presented by: Davori Productions / Mankato Playhouse 
   at: Mankato Playhouse
       12 Civic Center Plaza #1700, Mankato, MN 56001, USA


   @ 2:00 PM  

 Sweet Charity
   presented by: Northfield Arts Guild 
   at: Northfield Arts Guild Theatre
       411 3rd St W, Northfield, MN 55057, USA


   @ 2:00 PM  

 White Christmas
   presented by: Little Theatre of Owatonna 
   at: Little Theatre of Owatonna
       560a Dunnell Drive, Owatonna, MN 55060, USA


   @ 2:00 PM  

 Brigadoon
   presented by: Bemidji Community Theater 
   at: BCT Performing Arts Center
       316 Beltrami Ave NW Bemidji, MN 56601


   @ 2:30 PM  

 Junie B in Jingle Bells, Batman Smells!
   presented by: Merely Players 
   at: Lincoln Community Center
       110 Fulton St, Mankato, MN 56001, USA